Yeah, yeah, I know, about three months ago
we made a plea for you all to buy Ys Seven
. Well, we're making a similar plea again for the next Ys game coming out, Oath in Felghana. It is similarly amazing, although for slightly different reasons. (Check out the
Ys
article if you're unfamiliar with the whole bit, although it is slightly outdated.)
Some background: while Oath in Felghana has been released in North America after Ys Seven, it is actually quite a bit older. The original game was released on the PC in Japan back in 2005. After Falcom found some success with the PSP, they ported in 2009, which is the version we're getting. In turn, Oath in Felghana is a remake of Ys III, which was originally released sometime back in 1989 for Japanese home computers.
Ys III was considered the black sheep of the series, because it's side-scrolling versus the overhead viewpoint of all of the other games. It's unbalanced and awkward, but also tremendously fun - I like to call it The Best Worst Game Ever Made. (Conversely, the Worst Best Game Ever Made is Vagrant Story, but that's a diatribe for another day.) None of this matters because Oath in Felghana only takes the setting, story and music from Ys III - the gameplay system is based on Ark of Napishtim, which is the sixth Ys game. You may remember the PS2 port from awhile back - which was pretty decent - as well as the PSP port, which was plagued with numerous problems. Please note that these ports were done by Konami, whereas the Felghana port was handled in house by Falcom, and is thankfully absent of any technical issues.


So now with that cleared up, let's talk about the differences between Seven and Felghana. This interview with Falcom scholar Tom Lipshultz (who can be seen with me doing a panel on Falcom at Otakon 2008) makes a pretty good analogy, that if Ys Seven is Castlevania: Symphony of the Night, then Oath in Felghana is Super Metroid. Ys Seven has tons of equipment, multiple playable characters, a gigantic overworld, and an expansive story that encompasses 25-30 hours of play. Oath in Felghana is much more compact, with straightforward equipment selection, an extremely (EXTREMELY) combat overworld, and an average game time of 10 hours or so. That might sound like it's worse, but it really isn't - Ys Seven biggest sin is that it was simply too padded, the areas were too long, there was too much pointless story, and much the extra equipment and skills were a bit extraneous. Felghana is much more concentrated as a result.



Which overall is better? The fanbase seems to prefer Felghana slightly. I'm not sure if I can pick, though. Felghana is unquestionably better paced, but Ys Seven does have an awesome counter system, which every action game from now until the end of time should have, and I rather like the multiple playable characters, even though some of them are redundant. Playing Felghana again, I also miss the dash function of Ys Seven, because it's just a totally rad feeling to duck and roll across huge sprawling landscapes. (I also still love Castlevania Harmony of Dissonance for this reason alone, despite its other many failings.)

Felghana, in general is quite a bit harder, mostly because it eschews stockable healing items completely, ensuring you can only win boss fights by skill (and leveling up) instead of just stocking up on curatives. Enemies do drop lots of items of stuff, including regenerative items, but they also build up combo multipliers that will increase your offense, defense and even experience gain, as long as you continue to smash stuff. The magic system is also pretty cool, in that you can drain it pretty quickly by tossing fireballs, but it recharges fast, as long as you ease up on it.



Ys Seven did have a rad soundtrack, but Ys III also has some of the best music ever composed for a video game. My personal favorite track is the Tigre Mine theme, Be Careful, which I have set as my ringtone (and you can grab it here.) The remixes of these songs featured in Felghana are fantastic, of course, but the PSP version also includes the X68000 and PC88 versions, for those (like me) with a fetish for FM synthesis and tinny drum samples. The PC88 version sounds most like the Genesis version, which is the one I'm most familiar with (and the version I grabbed the ringtone from.) The only one missing is the amazing Turbografx-16 CD audio version (which is the one embedded above, followed by the Felghana version), which is absent due to rights issues, seeing how that port was done by Hudson and Alfa Systems, rather than Falcom.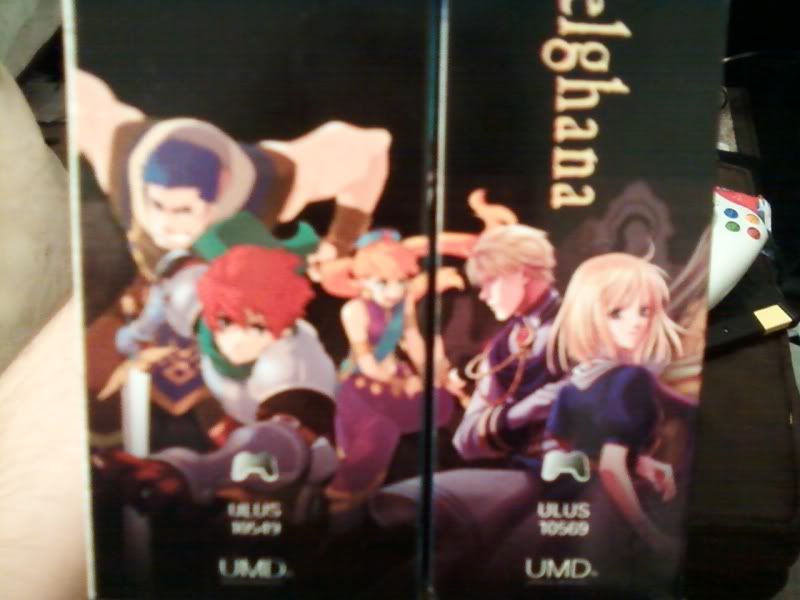 Plus, the limited edition boxes fit together to form one image! (Thanks to Ike from the HG101 forums for the image.) As usual, you'll be supporting an awesome company who's taking quite a risk of bringing this titles to a (purportedly) dying platform, again making these essential purchases. Please, go for it!