So yeah, the sequel demo is up on the PSN. My thoughts on the demo follow a quick look back at its predecessor.
Let's get the controversy out of the way: I loved Final Fantasy XIII.
I did not expect good things. The last FF I genuinely enjoyed was FFIX. I thought X was mediocre, and all X-2 had was a fun battle system and some great music.
XII didn't keep my interest for more than five hours(though I'll still finish it eventually).
XIII hooked me from start to finish. The game starts out with a bang, and never lost momentum. None of the cast felt offensive or out of place. I thought they all had a deserving role in the plot, even Serah. Even the most annoying, Vanille, still had a tolerable purpose.


The battle system was fresh and unique, and even though it nickel and dimes the tutorial process, the steady difficulty scale made up for it, and by endgame, if I didn't have it mastered, the resulting failures and game overs were entirely my own fault.




And of course, the game is a visual and audio delight.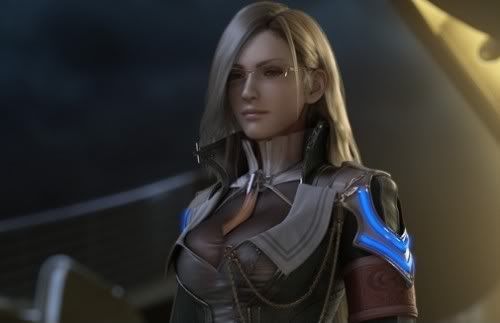 Even the ending was an appropriate close, and they even made that awful My Hands song actually strike a chord with me. No small feat.


Now then, the sequel.




First off, this game was made with either major budget limits or a lack of polish time, and I think it shows. The graphical quality is a huge step back. Not just in the actual rendering, but everything from facial expressions to character mannerisms seem like they were phoned in, and recycle the same gestures and features more often than not.

Whether it's because they were rushing this to market or to make it more palatable to 360 owners(for less graphical differences between versions or simply keeping the game on a single disc), the PS3 version suffered a lot for it.

The music, thankfully, doesn't fail. XIII's OST was amazing, and it sounds like they're improving on a great thing with XIII-2's.



(Shin Megami Tensei/Persona's) Shoji Meguro would be proud of what the XIII-2 sound team has accomplished here.

There's also a Chocobo theme with deathcore metal-esque lyrics. The less said about that, the better.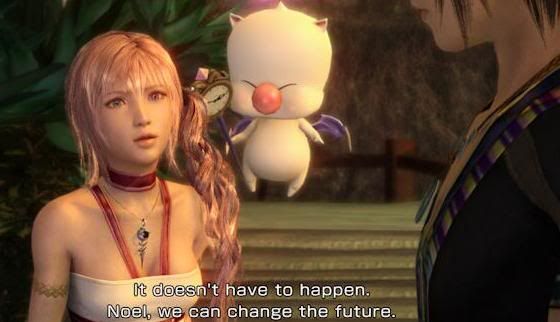 The story? You've got to me kidding me. Remove the likable cast in favor of a sexed-up Serah(who I even liked before) and some random pretty boy? For god sake's, Square. One step forward, go tumbling back off a cliff.

That's to say nothing of the actual plot, which reeks of worse nonsense fanfiction than X-2's, and that's saying something.



(WTF, Snow. I thought you were cool before.)

It involves time travel, moogles, and Lightning turning up missing due to T I M E P A R A D O Xes.




And reducing Lightning to a minimal role, when she's the best protagonist the series has seen in years? Are these guys insane?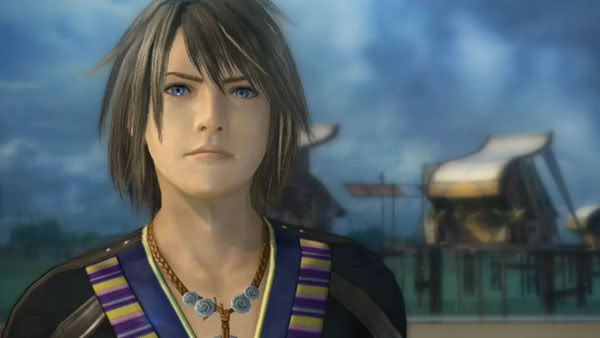 I'll say this, to be fair: Noel is not nearly as despicable as I expected. He seemed like a genuinely tolerable character. Oh yeah, and Mog's adorable.


So just like X-2, I'll probably just turn my brain off and play it for the game itself. Good thing too, because that's where XIII-2 really shines.


(I'm assuming you played XIII from here on out.)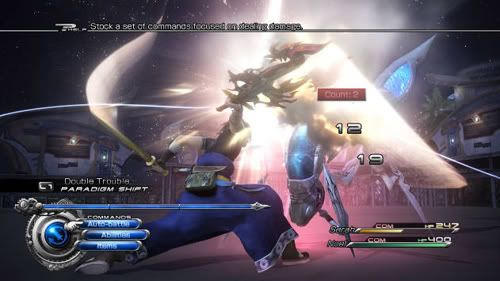 They dispensed with the BS here. Right from the getgo, the Paradigm System is entirely open. Serah and Noel get a full array of roles within minutes of the demo, and the monsters are recruitable not long after.
I'm still not keen on replacing a third party member with swappable monsters, but for what it is, they made it work, almost akin to a Shin Megami Tensei system. The more you use them, the better they get, and they have nifty benefits, like powerful attacks and even customizable appearances. Much like SMT, I'll probably have to make the tough decision of sticking with who I have or passing them up for newer, stronger ones.

The new dungeons are immense. I kind of liked how linear FFXIII was, and I didn't mind NPCs saying their thoughts as I walked by instead of having to ask for their opinion. XIII was a streamlined experience, and all the better for it.

Let's be honest here: stopping to talk to every NPC in RPGs tends to be jarring and way too time-consuming. XIII-2 really didn't need to bring that back. That said, if you're that person who missed towns and talking to lots of random people, well, this is now the game for you!

Lastly, branching paths. This is new for (mainline) FF in general, and a welcome breath of fresh air. I was genuinely stunned when the game asked Serah to decide how to proceed, and it made me stop and think on it.

As much as I love them, especially for what they add to replay value, they're a completionist's nightmare.

I already preordered the full game's LE(well, to be specific, someone bought it for me as a present in advance, otherwise I would've waited), so I guess I'll see if the rest of the experience can either add to this or ruin it.

In summary:

Graphics: B-
The game is still hardly bad looking, just a huge step back. They took years to make FFXII, with good reason. This looks like it took months.

Music: A
Not sure about the lyrics, but the music itself is wonderful. If you gotta replace Uematsu, Masashi Hamauzu is a fine start.

Story: D

WTF. At a glance to wiki, this wasn't penned by Motomu Toriyama, the guy who single handled destroyed Parasite Eve with The 3rd Birthday, but I find it hard to believe he didn't dream up at least some of this nonsense, since he directed it.
This one's just for the gameplay, unlike its predecessor.

Gameplay: A+
FFXIII kicked into high gear on all fronts. This will easily be the highlight.
Replay value will be through the stratosphere, especially if this has Chrono Trigger-esque multiple endings as I've heard.