I think everyone already knows Gamestop is a pretty crappy store. There are things that are great about it - namely, their stock locator, where you can look up used games and have them reserved in store. And honestly, as much as people grouse about their slightly pushy preoreder/magazine sales techniques, they really aren't nearly as awful of people on the internet like to make them out to be. (For comparison, never go into Teavana, even if they lure you in with some tasty samples - before you know it, you'll be halfway through a transaction to buy an antique tea set and $100 worth of tea leaves.)
No, today we'll be looking at how their stores are merchandised. This particular store is the one in the Palisades Center in West Nyack, NY.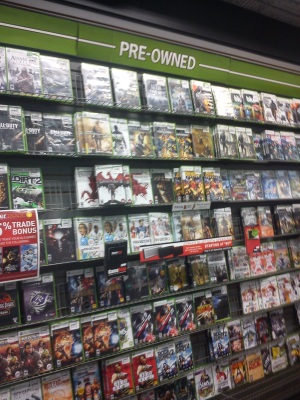 Here's the biggest issue. On both walls, the used games are by far the most prominently displayed. Most of the top tracks have their stock facing outwards, the rest are oriented spine outward. Where are the new games, you say? The ones whose sales actually count towards supplying the industry with money?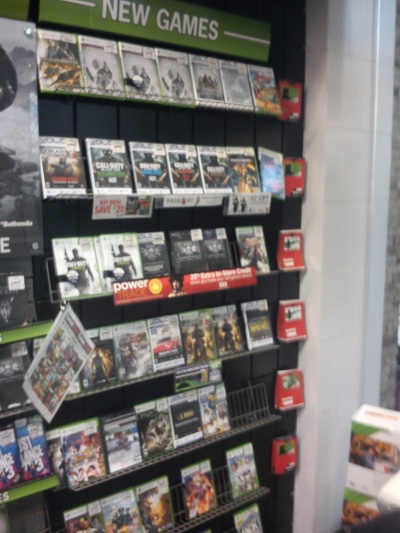 A tiny spot shoved in the corner, you say? Hmmm. Now when companies put all of that crappy new copy DLC in their games, you know why.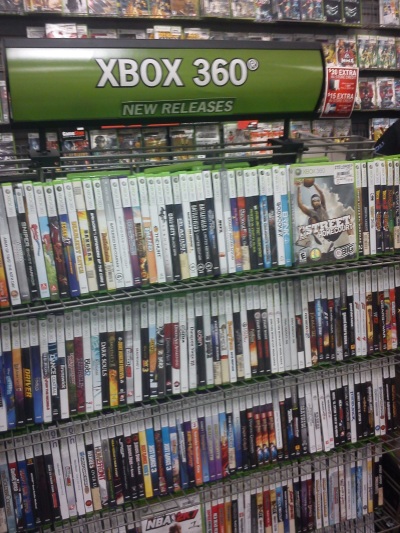 The rest of the new games are on their own separate racks. Technically these are in the middle of the store, but they're all faced spine outwards, and not nearly given as much space as the used titles. Gamestop seems to be doing everything in their power to make these as inconspicuous as possible.




Away from the new/used games debacle, we have these shelves. They're meant to be the bargain bin, but Christ if you could find anything in there. They're never anything remotely resembling alphabetized. Technically facing the covers out makes them more prominent, but most of the games are buried behind the rest, requiring that you flip, one by one, through everything. That simply takes way too much time for what would amount to impulse purchases anyway. The old, literal bargain bins may take up more space and don't allow titles to face out, but they were quick and easy to scan though.




Oh look, whole shelves of games without proper packaging. One would think that you could get a serviceable discount for damaged goods, but no - a beaten up copy of Skyrim without proper materials is the same exact price as one with all of the goods. Gamestop has been doing this forever, but it's still a pet peeve of mine. Similarly, I wouldn't have an issue with them gutting products if they'd give you a small discount for buying a floor model, but they definitely don't do that. Awful.




I did buy this though. $12 is a good price for a copy of Etrian Odyssey III, which is going for twice that price online. This particular store actually still had boxes and manuals for some of their DS games. Many stores have taken to throwing them out to purportedly make space for 3DS games. How does that even make sense to sell? Do people actually try to squint through those display cases with all of those loose DS games?

Anyway, the above game was actually mislabeled - it should've been $14.99 rather than $12.99, but the cashier gave me the lower price anyway (as retail establishments should). In fact, the employees here were extremely nice. Gamestop workers have been stereotyped as being the worst kind of mouthbreathing fanboys, but I've very rarely ran into those sort of people, and the usually the folks I find working in stores here in NJ are very cool and very professional. (In fact, if any Gamestop district managers are reading this, I have to commend the staff at the Westfield, NJ store for being extremely courteous and very friendly, probably some of the best crew I've seen in a retail establishment.) The fact that they can function so well despite the dreadful metrics and rules imposed by the Gamestop corporation, not counting the typical lousy pay in such jobs, shows a tremendous amount of fortitude on their part.

The gist of all of this is, I find it increasingly less useful to go into Gamestops anymore. Even their B2G1 free sales have become less useful since the general price of their games is so much more expensive than Amazon, Gamefly, Newegg, or any number of places online or elsewhere. Just do what I did, and accidentally buy a membership to Amazon Prime, so you don't need to preorder anything for their stores again.