There's quite a few Japanese games that are either lighting up the sales charts, or look to be a cut above the same-old coming out of the East these days.
What do they all have in common? No US publishers are stepping up.
Shame, but here's a few that we're missing out on, or worse, have missed out on for months:
Growlanser (PSP, 2009)
A remake of the PS1 classic. Growlanser 2, 3, and 5 were the only ones in the series to be localized, by Working Designs(2, 3) and Atlus(5), respectively. The utter failure of 5 sales-wise in the US is cited as the reason that Atlus turned this down, even though it was arguably the worst in the series, and 1 is arguably the best.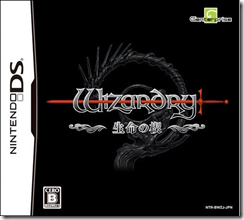 Wizardry: Pledge of Life (DS)
A successor to the first-person Wizardry games, with lots of dungeons and customizable parties. From what I've seen, it bears a similarity to Wizardry: Tale of the Forsaken Land, a fantastic game localized by Atlus USA many years back. Why this hasn't been localized, especially in the wake of Etrian Odyssey's success, is anyone's guess.
Hatsune Miku: Project Diva 2nd (PSP)
Okay, this is a stretch, but:
A. It sells like CRAZY in Japan
B. Miku does have a following(however niche) in the West
and C. It seems like a genuinely fun rhythm game.
Sega have localized worse, and could use the niche support.
7th Dragon(DS)
Another venture by the Etrian Odyssey team, or at least some members of it. No word for a US release, and one seems very unlikely at this point. You can likely hold Sega accountable.
You can read more about 7th Dragon at this very site:
http://www.hardcoregaming101.net/7thdragon/7thdragon.htm
Fatal Frame IV: Mark of Lunar Eclipse (Wii)
Arguably the most dire offense of them all. Fatal Frame IV, is supposed to be a fantastic game, and great for the Wii, which is in dire need of good titles at the moment. It's already been fan translation patched, that's how unlikely a localization is at this point. Supposedly the game is buggy, but take those claims with a grain of salt.
Last Window: The Secret of Cape West(aka Hotel Dusk 2, DS)
Another failure on Nintendo's part. The sequel to the niche gem, Hotel Dusk, which actually received a release in the UK. Nothing slated for the US as of yet.
Tales of Graces (Wii), Tales of Hearts (DS)
I'd be remiss if I didn't give the beleaguered Tales community a mention.
For whatever reason, Namco continue to pass up the solid Tales games in favor of mediocre ones, to the point that fans have already started fan translating these games within a week, and still with no word from Namco-Bandai on a US release.
Also worth a mention is Tales of Vesperia's PS3 version, which is 360 exclusive to the US.
There's a few other games I'd like to mention, such as Banpresto's new SRT OG Saga: Exceed, and Atlus' Catherine, but odds of those being localized are still up in the air(especially Catherine), so I won't assume the worst just yet.