Retro game shopping can be a pain in the ass. Most of the time you're stuck delving through forums or mucking around with eBay. Unfortunately, for most people, it's your only bet, because retail stores that carry these sort of products are pretty rare. Gamestop stopped stocking NES, Genesis, SNES and Playstation stuff within the last five years or so - really a mercy killing, because by that point, there was nothing worthwhile left on the shelves - while the average independent game store looks at any old game, arches their eyebrow and goes "Wow this is old, let's sell it for a lot!" without any clue that there's an actual marketplace for this stuff. Thrift and pawn stores occasionally work, but their stock and quality is completely inconsistent unless you want to scrounge through them on a weekly basis. It constantly depresses me that walking through a Japanese used game store is almost like a minor epiphany, yet there's nothing in the USA that has really even come close to that.
There are some that try, though. Out here in the NY/NJ area, there are a couple of stores that actively concentrate on retro game stuff - Video Games New York in the Village in Manhattan, NY, Digital Press in Clifton, NJ, and Next Level Games in Blackwood, NJ. Let's take a look at them!
Video Games New York
202 East 6th Street, New York, NY 10003-8205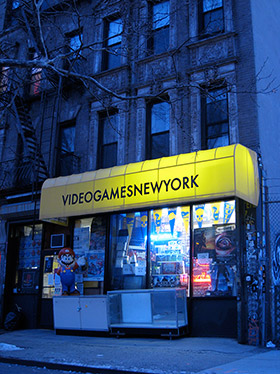 This used to be called Multimedia 1.0 a few years back, when it was located on St. Mark's Place and had tons upon tons of stuff shoved into a cramped hallway. They moved a few blocks over and reorganized everything a bit, although the decor still vaguely resembles someone's basement. For new games, they're pretty good, and a nice alternative to Gamestop - they're well stocked, stock import stuff at cheaper prices than the places in Chinatown, and they tend to break street dates, too. The retro stuff? Well, I'll let this picture from Gamespite speak for itself:



Why yes, that IS a boxed copy of Secret of Mana going for $100! And Super Metroid for $90! So yes, there's a huge stock of stuff, but nearly all of it is exorbitantly overpriced. On one side you have all of the common 8 and 16-bit cartridges, ranging anywhere from $10-$20 each, in varying conditions of completion, all haphazardly arranged. The Playstation, Dreamcast and Saturn section isn't much different - I don't think they realize that you can't take some random Saturn game and ask $20 for it. There's a ton of old Saturn and Playstation import stuff in case, but they're all stocked in a way that's impossible to read them or tell the price. I'm not sure I'd want to.

Video Games New York also hits up the anime convention circuit, and fellow HG101er Vysethebold found a Japanese copy of Resident Evil: Survivor for $9.99. He figured it was a good deal, considering it had the light gun support that was taken out of the US release. Then he takes it to the register, and the owner says, oh, there's actually a smudge on here, it's actually $99.99. Not even jokingly. I checked on Amazon Japan marketplace and the going price there is, no fooling, a single yen plus shipping. Obviously no one in the US can actually get there due to their shipping rules, but realistically, there's no way they should be charging more than $10 for this. It's really absurd.

They actually do have a good stock of complete NES, SNES and PSOne games, but those too, are ridiculously overpriced. A complete Final Fantasy VI runs about $100! You can find one of these online, without very much effort at all, for about $60. Racketboy did an interview with the owner awhile back (embedded later down) about how you can price this stuff higher, because people like being able to hold the object in their hands. He's right to an extent, but no one in their right mind outside of naive fools are going to pay double the going price for that experience. A lot of stuff seems to be stocked more for street cred than anything you'd actually want to buy. But these aren't even particularly uncommon or rares games though! They're just popular ones.



Since it is so well stocked, and does have a nice museum of Game & Watch and other really old, weird stuff, Videogames Newyork is the store that probably closest replicates the Japanese retro game store experience, but unless you're willing to dig through the stuff - which people have been doing for years and have probably all dried up - it's not a place I'd ever advise spending money at.

Tour courtesy of Racketboy:


Next up:

Digital Press, Clifton, NJ
387 Piaget Avenue, Clifton, NJ 07011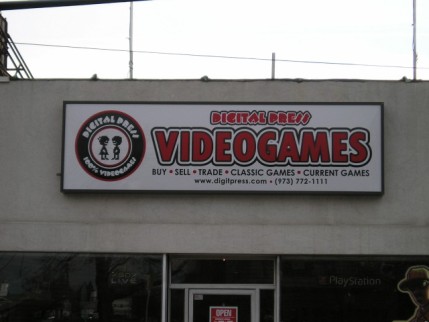 This one opened up about four years back. It's in an easy to get to place on Route 46, a minute off the Garden State Parkway around exit 153. It's run by Joe Santulli, the guy behind the Digital Press website and associated price guides. The practical upside is that, since this guy literally wrote the book on video game values, most stuff is pretty well priced. The average loose NES/Genesis/SNES cart costs between $3-$10, with in more demand titles hitting about $20. Some of the really rare stuff does get into the stratosphere - I saw them selling Dragon Force and Magic Knight Rayearth for the Saturn, complete, for $100 each, which feels a bit too high - but it's never quite as ridiculous as Video Games New York. In addition to those, there's occasionally some random older import games that show up, although not many. They also stock for pretty much every system, even if the selection is small. This is the only store that sells old PC games, usually pretty cheaply. There's also occasionally some cool books, comic books, preorder trinkets and artbooks, and random other stuff, usually for cheap. There's a ton of old strategy guides (usually priced at $6 each across the board, except for newer stuff) as well as a selection of old video game magazines. These are a bit too pricey - $20 for an issue of DieHard Game Fan? Hmmm. There are a couple of arcade cabinets, including a Playchoice-10, a Neo Geo with a few games, and a nicely stocked MAME cabinet. You'll also find some old retail kiosks and a museum in the back of the store with random not-for-sale stuff.

The downside to having such a knowledgeable owner is, obviously, that you'll rarely find a really good deal. There is a bargain bin in the back full of disc-only games for about $2 each. I like this part a lot even though there's rarely enough worth that much. It's a much larger and spacier store - the big advantage of having a store in suburban New Jersey instead of Manhattan - although I still somehow feel like they have less stock. Their new game selection isn't particularly big, and they do stock an occasional import, but a good chunk of the store is focused on retro stuff.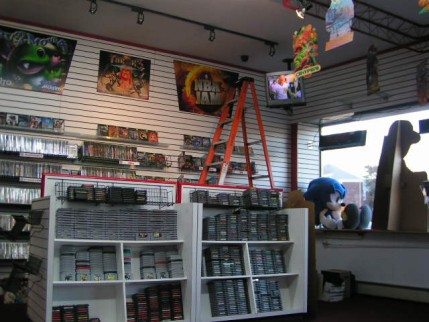 Maybe it's just because I've been a consistent visitor over the years, but the Digital Press Store does highlight one of the dilemmas of running such a business - namely, it feels like it's really picked over. When you run a store that based on used stock, you need to depend on trade-ins - and if no one's trading in good stuff, you can't get good stuff.

Because of this, I don't know if it's just me not finding what I'm interested in any more, but it's rare that anything really interesting pops up. It feels like a huge percentage of the stock has been sitting there since it opened, and what's more, they're all marked at the same price or higher. I may be imagining things, but it almost feels like sometimes they're getting more expensive. If no one bought that copy of The Adventures of Lomax for $18, they're sure as hell not going to pay $22 for it. Since the stock rarely seems to cycle, I don't really find it a good place to visit that often. If the stock's not moving, then why not put them online, and use that capital to buy more, new stuff? They have an active account on eBay, but it's weird - they sell really shifty lots of random PC Engine games, where you'll spend like $50 to get 10 games of the seller's choosing, which seems like a lousy way to pawn off lots of useless 50 yen dating sims.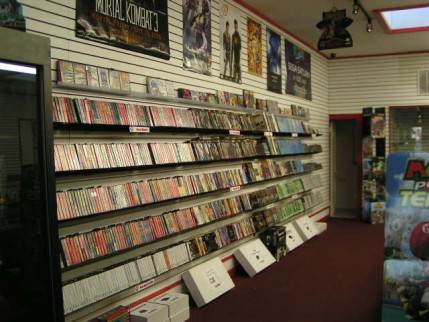 Also, the employees outside of the owner are really young and some don't seem all that informed. Awhile back I brought my PS2 in to play The King of Fighters XI, and one of the employees laughed and was like, that game looks SO OLD. Really? REALLY? You work in a retro game store, dude.

On the plus side, they hold monthly meetings called NAVA (North Atlantic Videogame Aficionados) where folks get together for video game tournaments and trade meetings. It's hard to actually trade much of anything, because there are usually just random boxes strewn around, and tracking down their owner can be difficult. If anything you'll usually find the most interesting stuff here.

Obviously if you're not from the area you won't find the store as worn over as I do, though, so don't let that deter you if you're interested in checking it out. It's still way, way better than Video Games New York.

Anyway, here's one of the only clips I could find, interviewing the Angry Video Game Nerd, part of a huge series:



Finally:

Next Level Video Games - Blackwood, NJ
1031 Little Gloucester Rd
Blackwood, NJ 08012



This is store is way out of the way as a North Jerseyan - it's actually much closer to Philadelphia, about 10 minutes off exit 3 on the NJ Turnpike. I don't get to check it out very often, but it's a pretty nice store. It feels like an offshoot of the Digital Press, with similar stock and pricing. It is quite a bit smaller, so it doesn't have quite as much stuff, plus there's no bargain (outside of old sports and Xbox crap), magazine or PC section.

What I do really like is that they stock more offbeat items. There's always a small stash of PC Engine, Famicom and Mega Drive games, among other imports for the Saturn and Playstation, usually around $15-$20 each, which isn't too bad a deal. They seem to have rarer items in stock more often too, and for a decent price - last time I was there they had a complete copy of Persona for the PS1 for $60, which is about the going rate for it. They used to sell small figures and other gashapon, although unfortunately they don't seem to anymore.

There's a couch in the back and an older TV, and every time I'm there, there's usually someone playing some old TG-16 or SNES game. They also hold South Jersey Classic meetings similar to NAVA, although they don't seem to be nearly as crowded, probably due to the location.

The same problem persists with Digital Press - it is kinda picked over, with lots of junk that won't move unless it's really priced to move, but since I only make it down there once a year or so, I usually end up finding a few things I want. Also check out the Siliconera post.

Official Video Tour:


These are the major stores I know of. Newark apparently has a few, but I try to stay out of that place if I have the chance. There's Cash 4 Games, which is a terrible name for a store, and their web page is (literally, it seems) from 1999. There's also apparently a place called Gamming 4 Life, but all I've seen are crappy ads on Craigslist toting overpriced crap, and quite frankly, I'm not shopping at any place whose grammar is so overwhelmingly appalling.