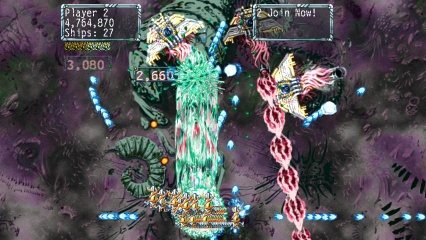 There's an ongoing thread on
SHMUPS forum
asking why shooters are such a niche genre. The reason can be found on the exact same forum, in the form of their
Top 25 Shmups of All Time List
, which are voted on yearly. Every time, more awesome classic shooters are ditched in favor of the newest Cave games. That's not entirely unreasonable, because one of the only companies putting out really decent titles on a consistent basis, but it does point to the genre becoming extremely homogenized. Milestone consistently puts out stuff (you can find three of their games in the Milestone Shooting Collection for the Wii for about $15), each usually with some kind of vaguely interesting mechanic which totally doesn't work in practice. And there's the Castle of Shikigami games, which are a bit better, but not anything super impressive either. When was the last great non-bullet hell shooter? Otomedius was only alright, Gradius V is five years old at this point, and Ikaruga even older, and even that is arguably a bullet hell game.
Which is why I'm so incredibly impressed by Shoot1up, available on the Xbox Live Indie marketplace for the shocking low price of 80 points (AKA: $1.) It's a self-described "manic shooter for normal gamers", although it isn't quite a bullet hell game. It is, however, a surprisingly well developed game with some very compelling core mechanics. Around the 'net it's most well known for the gigantic woman robot shooting missiles out of its nipples, a testament to the "why the hell not, we don't have suits to impress" mentality of independent game development.

In Shoot1up, you don't control a single ship, but rather a whole squadron of them, with each counting as a life. (The in-game terminology is "phalanx".) You can expand and contract your phalanx with the L and R triggers. Spreading out your ships will not only earn higher points, but will also trigger a laser in the center if the formation is wide enough. Of course, in doing so, you're also more exposed to danger, turning it into clever risk/reward mechanic. If you lay off the trigger for a moment, a small circular shield will also form around your ships. If you lure an enemy close enough and press the trigger, it'll cause the shield to dissipate but kill the enemy in the process, awarding 10x the standard point value. Obviously, waiting for it to charge and then getting close is even more dangerous, but is really the only way to score big.

This is all very simple and easily understandable within a few minutes of play. Compare this to ESPGaluda II's various arcade scoring systems, which are so incredibly complicated that I've seen a number of people try to explain them, and then just give up.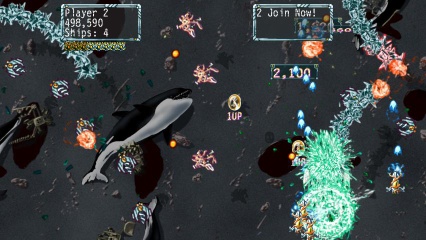 Like many modern shooters, the goal is to reach the end of the game on a single credit. (Unlike others, you aren't allowed to credit feed, at all - once your ships are all gone, it's Game Over.) This is often a daunting proposition, because it takes a remarkable amount of practice and memorization. Over the course of twenty minutes or so, you can only screw up three times, and then you're done. Shoot1up, on the other hand, doesn't focus on isolated moments where you can die, but instead emphasis is placed on the overall picture. In general, dying isn't something you need to precisely avoid. In fact, when you're controlling twenty ships on the screen at the same time, it's almost impossible to get through completely unscathed. You can make a series of mistakes and wipe out a huge chunk of your squadron, but with some smart flying, you can eventually rebuild them. In other words, it takes more than a few misjudged bullets or mistimed maneuvers to put an end to your game, and more how you deal with the general flow of gaining or losing power. While it can get hairy in the later levels, it's not a terribly difficult game on the Normal setting, and with a few games you can probably get skilled enough to reach the end without much of a problem, and can then concentrate on score.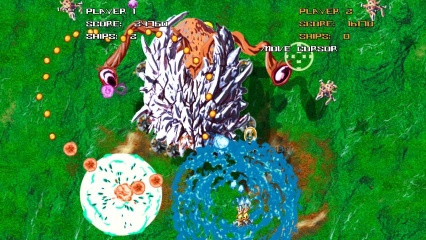 EPSGaluda II is what happens when you continuously target the hardcore fan with arcane scoring systems. Cave has been creating a more diverse spread lately, in hopes of reaching wider audiences, but the fact is a lot of people are still going to be intimidated by them, no matter how many times you try to tell them that they aren't that hard. (Which is a lie, of course.) We need more games like Shoot1up, that can distill the better parts of modern shmup design without backing itself into a corner than only a few can master. It still has some minor issues - the camera is zoomed in too closely, making it feel claustrophobic at times, and its status as an Indie game means there's no online scoreboards, which would've been really nice. Still, for 1/80th of the price of ESPGaluda II or Ketsui, you can get an extremely solid title, the kind which there desperately needs to be more of.