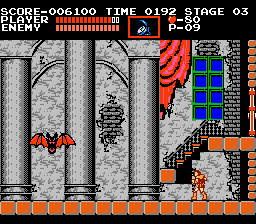 Among video game composers, Kinuyo Yamashita isn't exactly a well known name, although she probably should be. Back in the mid-80s, she worked at Konami and was the composer for the original
Castlevania
. She also worked on a handful of other Konami games, mostly Japanese-only, including Esper Dream,
Almana no Kiseki
, King Kong 2, Stinger, Hi no Tori (Famicom version), Knightmare II: Maze of Galious (MSX version), Usas, and a handful of others. She quite after a few years to go freelance - according to a recent interview with
Square Enix Music
, Konami's refusal to properly credit their developers played a big part. (She shows up under the pseudonym "James Banana" in the ending to the NES Castlevania, although she's credit properly in the
MSX2 Vampire Killer
, which has the same music.) After going freelance, she did the outstanding
Power Blade
soundtrack, and worked on a number of Natsume titles, including the SNES version of
Pocky & Rocky
and Mighty Morphin Power Rangers, along with Megaman X3 for Capcom. Her
official website
documents several other Japan-only games, including many entries in the Medarot/Medabot series, but also notes that she had a brain hemorrhage which left her unable to compose for a number of years. She's recently become for visible on the web, thanks to her
MySpace account
and here appearance as a guest speaker in
Video Games Live!
. She has quite an interesting background!
Well, apparently
Wikipedia doesn't think so
.

I mean, what? The music for the original Castlevania is some of the most iconic in video game history, and is still being rearranged by Konami over twenty years later. Why not delete Koji Kondo, too? (On this note: this Original Sound Version post on the same subject mentions that they've deleted Shinji Hosoe, a veteran composer for Namco and others for over twenty years, for similar reasons. His works aren't quite as famous as Castlevania, but he's still a fairly well known, well documented composer.)

The argument by the nimrod Wikipedia editors keep shooting down source after source as "unnotable" As noted above, Japanese developers are notorious for keeping secrets - we know that Keiji Inafune didn't really design Mega Man but still aren't 100% sure who did - and trying to source these things in the games themselves is nearly impossible. That's why it's incredibly valuable (and amazing) when places like the Game Developers Research Institute dig up some of these guys to set the record straight. But oh, hey, according to the Wikipedia deletion argument, first person sources are irrelevant, as her apparently her own web page, along with various interviews, don't count, and the popularity of her original songs don't either.

Every once in awhile, there's a tiny part of my brain that thinks that Wikipedia, along with the general wiki format, will overcome the general usefulness of websites like HG101. Then I see instances of stupidity like this, with the Wikipedia editors clearly being small minded know-nothings, and think, yeah, sites like mine have nothing to be worried about.

EDIT:

One of the more recent Wiki folk reupped her original entry here, along with a longer list of her works and more sources.