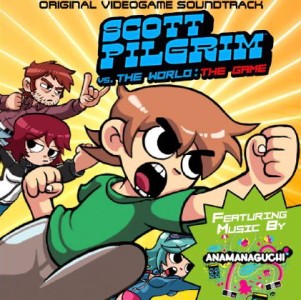 The whole Scott Pilgrim multimedia blitzkrieg worked far better than it really should have. Yes, the movie flopped, but quality-wise it was completely fantastic, because the people that made it had an understanding of why people loved the comic. The same goes for UbiSoft's downloadable video game, which makes no excuses for being an updated version of River City Ransom. It's appropriate, given that Scott's universe is largely inspired by this particular game, and also welcome, because not even the original Kunio-kun developers have ever done it properly, instead compelled to remake the numerous sports related games that no one seems to care about (except the dodgeball ones, but those new ones haven't turned out all that well.) Other than the technical glitches, most people seem to like it, with the major criticism being against the RPG mechanics. I've even read some people say the game would be better off without them. Nonsense, I say -- for the type of game this is trying to be, they are essential.
This is because, from a design standpoint, the sidescrolling beat-em-up -- or the belt-scroller, if we're gonna be all hip -- just isn't very good.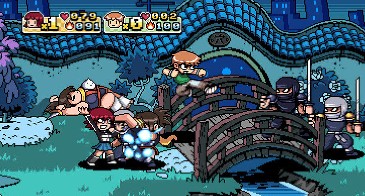 That's not to totally write off a huge part of gaming history, or say that we were all fooling ourselves when we put quarters into TMNT: The Arcade Game. No, they're still FUN, because smashing stuff in Final Fight is pretty gratifying even twenty years later. But they're very, very hard to balance if you're going to play to win and not just put quarters into them. The 3D nature of the movement makes it hard to line up attacks. The size of the characters, combined with their sluggish movement and the nature of close quarters combat, makes defense maneuvers difficult. And the chaotic nature of the enemy attacks make it hard to predict their movement anyway. There is some technique required for crowd control, but even that grows nearly useless in a typical boss fight, wherein your opponent is clearly overpowered. And none of that takes into account that they're just really repetitive -- without any platforming or any other activities, it's literally the same action repeated thousands of times, which is usually not helped by the limited movesets. Even the most advanced games grow weary by the time the finale rolls around. It's widely acknowledged that these games tend to live or die in co-op multi-player, not only because it's more fun to bash heads with friends, but because the multiple characters allow you to tip the scales of balance through flat-out attrition.

Knowing that it's hard to be "good" at beat-em-ups -- and you can't make them too easy without being boring, or too hard without being frustrated -- the designers of Scott Pilgrim used RPG elements in an attempt to balance everything out by minimizing the need for player skill. In that way, the difficulty of the game is inversely proportionate to how long you've spent playing it. I know that sentiment sends terror down the spine of the "play games to 1 cc them" crowd, but if you're playing Scott Pilgrim that way, you're playing it wrong.

That might sound like it's meant to waste the player's time, but think of it like this. If you're making a old school style beat-em-up, you can (A) make it an hour long game with infinite credits, like many recent arcade ports, and have people claim that it's too easy and disposable, (B) make it like an NES game and give limited continues, forcing people to replay earlier stages over and over in hopes they get better and don't just give it up, or (C) implement a barrier that artificially slows down progress but gives the opportunity for the player to improve their stats and play over levels at their leisure. I'm not a huge fan of forced grinding, but the way it's presented in Scott Pilgrim mostly works, in large parts because the graphics and music is brilliant, and the core action is fun enough that it feels gratifying without getting too repetitive. I don't think I played a single level more than twice before I beat it, other than occasionally visiting some old stages for fun.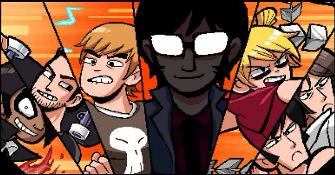 It's still got issues, though. When you stick RPG elements into an action game, you get a conundrum with your "starting point" at level 1 - do you stick your character in neutral state, that is, with skills on the level to a game without RPG elements, or do you nerf the character and weaken them, forcing them to climb the ranks to get skills you would otherwise commonly start with? Scott Pilgrim picks the latter route, and I'm not a fan of that. The first stage or so is really slow, because you're slow, and you don't have many skills, and it's not a lot of fun. It gets astronomically more enjoyable once you level up, but that's an awful way to start a game, especially when you're depending on sales from a demo.

Scott Pilgrim's other mistake is that leveling up is so haphazard that it's easy to turn the game into a complete cakewalk and become completely overpowered. This also happened to be the same exact issue with River City Ransom, so the developers must not have felt it was a concern, but it feels weird to beat a boss you've encountered for the first time in a handful of seconds.

It's not quite as well done as Castle Crashers, a game which Scott Pilgrim owes its very existence to due to its extraordinary success, but while it could've used some adjustment, it's still another fantastic example of how you can take an old-school arcade-style game and update it to a modern console mentality, and have it appeal to more than just a handful of people.