I actually rather liked the 2.5D remake of Dracula X for the PSP, although a lot of people don't. The saving grace of the package, purportedly, is that includes the original PC Engine version, translated into English, no less. However, beyond the sound synch issues, some complained about it looking muddy. Since the Virtual Console version just came out today - untranslated, but still the best, cheapest way to experience it - I thought I'd snap some comparison screens to highlight the visual issues between the PCE version and the PSP ported version.

The PSP version offers two display types - regular and large. Here they are, from top to bottom, the original PCE, the "regular" PSP version, and the "large" PSP version.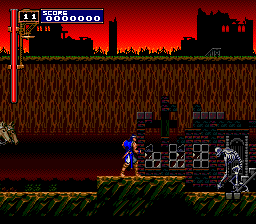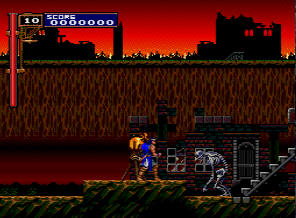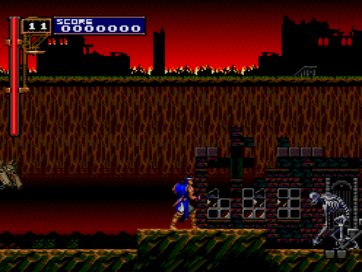 ARGH MY EYES. It's hard to precisely tell what's wrong on the PSP screen, but here's the gist of it.

PC Engine games usually run in a 256x224 resolution. This is very small - horizontally it takes up slightly more than half of the PSP's 480x272 screen, leaving a lot of empty real estate. Instead of letting the game run at the native resolution, though, the smallest you can set the game is the "regular" setting, which is 296x224. It keeps the vertical resolution but expands the horizontal resolution by 40 pixels. You can't just stretch the image though. I took the original PCE image for a simulation, so it would look like this: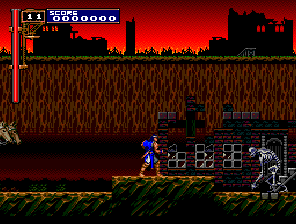 That looks like crap - note the line doubling in the score, because those extra pixels have to come from SOMEWHERE, so it applies a filter, which smoothens the image like this: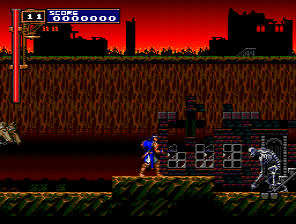 Now it looks cleaner, but notice how blurry it got in the process. This is what filtering does. But it doesn't help that, for whatever reason, the PSP version uses a slightly darker color palette, so, for the final picture again: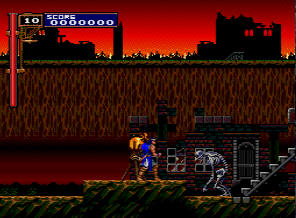 The "large" version resizes the image to 362x272, using the full vertical resolution of the PSP and stretching the horizontal width to maintain the same ratio as the "normal" version. It's still obviously filtered though, though technically no worse than the normal version.

What crap! I haven't mucked with Symphony of the Night to compare, but how on Earth did Konami screw this up? It's not like those 40 pixels were really THAT valuable so it needed to filter the image? But then again, shoddy emulation on these types of compilations are typical, because they figure they're cheap, and no one will notice.