Today I was reading over the
Pac Man Fever
entry over at TVTropes, wherein TV shows improperly show video games being played, usually by using generic 70s arcade game over sound effects in a game that looks like Halo, or some such. It reminded me of an episode of the mid 90s British (well, technically Irish) sitcom Father Ted (which was created by Graham Linehan, who more recently did The IT Crowd. Both are excellent shows, I definitely advise hitting up Netflix for both.) In
the fourth episodes of season two
, two characters are playing a video game.
Note that, in keeping with the trope, they're just randomly mashing buttons and appear to be using Atari-ish joysticks. This is weird because the game in question is shown briefly to be Street Fighter II: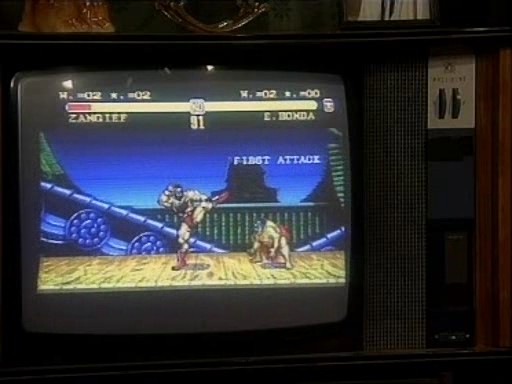 ...but wait a minute. Isn't there something odd about that shot? Note the solid black background on the status bar. That's right, this is the beta of the Genesis version of Street Fighter II Special Champion Edition, shown to the press in early 1993 and delayed until later in the year to retool it to more closely match the arcade (and SNES) game. (I spent an entire summer between seventh and eighth grade grieving this, because I wanted it so badly, but only had a Genesis.) I couldn't find any pictures of it out there, and my scanner is so badly broken that I can't put up any shots, so you'll have to trust me on this.
So the question is: how on earth did a sitcom get a beta copy of a video game that was only ever shown to the press? Was it just a video tape? They obviously aren't played it for real. The only place I ever read about this was in the Retro section of an old issue of British mag games(tm), wherein they were equally as perplexed. Furthermore, the episode had aired around 1996 or 97, long after the official version had been released. I don't know if anyone ever figured this out - anybody know?