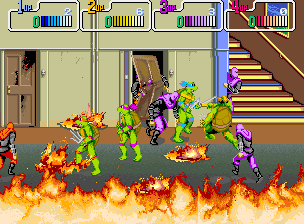 About a year ago or so, we published a massive article covering the many, many
Asterix
games. This time around is a similarly themed article covering the entirety of the
Teenage Mutant Ninja Turtles
franchise. There are roughly 30 games in total, spanning from the original Konami NES game all the way up until the recent Ubisoft titles, with numerous highs and lows throughout. It's thirteen pages long and includes a brief history of the TMNT franchise itself, making for very comprehensive reading.
Since that particular update is huge, there are only a few smaller articles to post up. One is one which I couldn't think of a proper name for, so I called it
Vic Tokai - Speed Tengoku Jump Jigoku
. It's a series of four (technically, three and a half) platformers developed by Vic Tokai which are all technically part of the same series, seeing how they have largely identical play mechanics, despite there being no thematic links between them. The first is Kid Kool, which I think the Angry Video Game Nerd (righfully) tore apart earlier this year. However, most of the major issues in that game got fixed for the Master System title Psycho Fox, which then evolved into the Mega Drive/Genesis games Magical Hat no Turbo Buttobi Daibouken (in Japan) and Decap Attack (in North America and Europe). It's sort of cool to see ideas go from total unworkable garbage into a minor classic.
We're finishing up the single game coverage with
Martial Masters
, an incredibly nice looking arcade 2D fighter made by IGS, who I keep wanting to call the "SNK of China" just based on its adherence to classic spritework and traditional genres around the turn of the century despite both the hardware and the audience evolving in different directions. None of their games seem to have ever been ported, so they mostly live on through MAME. Their work is generally worth checking out, including this one.
Also up is a new podcast called
Game Club 199X
, started by members of the HG101 forums and IRC channel. The idea behind this series is to play games as they were originally intended - that is, no FAQs, no cheats, no save states, just the support of the local community - to get through some rather old and obtuse games. Last month's game was Snake's Revenge, which is discussed in this episode. December's game is the Interplat classic (and predecessor to Fallout) Wasteland, so check out the
forum thread
if you're interested in joining in.
And Your Weekly Kusoge is the
Amiga version of Akira
, which is largely regarded as the second worst game on the computer. So very much lost potential, there.