I recently interviewed Jeremy Blaustein, along with David Hayter and other Metal Gear folks for a print magazine, and while these interviews and snippets of them will appear on HG101 in the near future, this snippet of speculation is too cool to wait for.

.
.
.
Jeremy Blaustein still speaks with friends at Konami, and he recommended they should put the original Sega CD version of Snatcher on iOS. As he explained: "Apparently they can't release it because right now Mr. Kojima is doing this radio play for Snatcher and isn't interested in releasing the old Snatcher at this time. One has to believe that he's keeping it, you know, up his sleeve to pull out when he needs to. I'm just speculating that it will be the next thing that Mr. Kojima will put out, since it's too good of a property."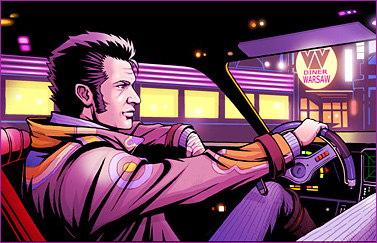 It is an excellent property, and admittedly this is speculation, because no one wants to speak too much on the record, but Kojima's popularity continues to soar, his MGS series is on everyone's mind, plus the Radio Drama is being unofficially translated by fans, surely if there was a time for Snatcher to be ported to iOS it would be soon? (if you've not checked out the fan-translation of the radio drama, do it now, it is a phenomenal achievement)

And, because it's so damn awesome, here is another photo from Jeremy's personal collection, taken during the Snatcher voice recording sessions.