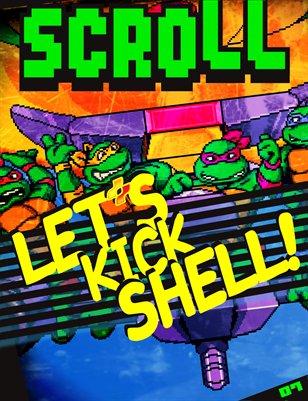 Volume 7 of Ray Barnholt's excellent Scroll Magazine is out, which is a heavily advisable purchase. This one covers all of Konami's Teenage Mutant Ninja Turtle game, at least from the era that's worth caring about - that is, the NES, SNES, Genesis, Arcade and Genesis titles, along with Manhattan Missions and the PC ports. It also contains a nifty timeline of important Turtle events, as well as the number of appearances by recurring bad guys.
Also worth noting, separately, is Gamespite Journal Vol. 12. I've fallen behind on these lately because I do most of my web browsing at work, and for some reason, Parish's new domain Telebunny.net is blocked. This volume concentrates on Sega's output in the late 80s and early 90s, with a second volume coming next year covering their later games. I enjoy Nintendo coverage and all, but Sega is a topic near and dear to me - just take a look at HG101's Sega coverage in comparison to Nintendo, so this volume is a personal favorite.
HG101's next book - the first of a new series - will be focusing on Sega as well. Details will be forthcoming on it soon!