Last weekend, I went to Too Many Games in Oaks, Pennsylvania. I wrote about the 2011 edition, and there's not much more I can say other than I bought video games and saw Brental Floss perform, who is entertaining. This post is actually about a special reproduction cart that was only being sold there - a cartridge version of Miracle of Almana.
This is the English title for a game we've covered in the past, known under its original Japanese title of Almana no Kiseki. (Technically it's "Arumana no Kiseki", but that sounds silly.) It was only released for the Famicom Disk System in Japan around 1987 by Konami, but was passed over for US release. This was probably due to Nintendo's licensing restrictions forcing them to only release the cream of the crop, and Almana no Kiseki isn't terribly good. Yet it's a game I have a weakness for, mostly because it's such a transparent ripoff of Indiana Jones and the Temple of Doom, plus the soundtrack, provided by Castlevania's Kinuyo Yamashita, is excellent. And also because it's an early implementation of a grappling hook-style mechanic, even though here it's weird and doesn't really follow any semblance of sensible physics.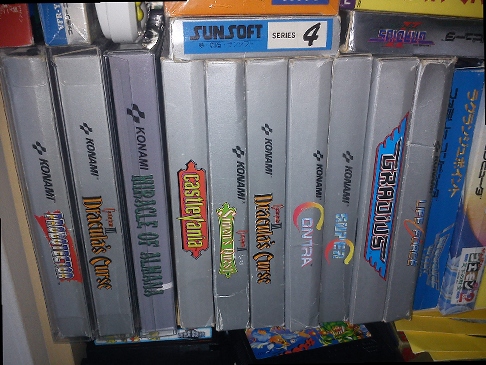 It was $50, and I already own the FDS version, but I'm a sucker for Konami, so I went for it. Above is what was included in the package - they took the FDS art and remade it in the grey box fashion of Konami games from the era, made a new logo, and assembled a neat package. There's still some weird stuff about it, though. The cartridge was clearly reused from another game and wasn't exactly the cleanest. The cardboard has a different feel, as does the manual, which is, surprisingly, in color. As you can see from the above shot, the color is SLIGHTLY off from other Konami games, although I'm not sure if that fading is due to age on the other boxes. It also came from a poster, a replication of a Japanese advertisement, though it was separate from the main packaging. I have mine rolled off somewhere, likely to be never found again.
What I was most curious about it was actually playing it. Most reproductions like these are simply ROM dumps - translations or other hacks. On the other hand, Miracle of Almana was originally a Famicom Disk System game, which means someone had to go through the trouble of getting it working on a cartridge. I'm actually really interested in how this was done - did it need to be hacked to use a memory mapper or something? Could any readers provide any answers? - but details on who actually did this seem to be scant. Anyway, there's no real text in the game other than the title screen, which is shown with a new logo in the above picture. There does seem to be a bit of glitchiness in the status bar whenever you switch weapons, that I don't recall being there originally, but the game itself was always kinda shoddily programmed anyway.
The other thing I was concerned about is how it would transfer over the extra FM synth from the Disk System version, since they aren't supported on cartridges (or any non-Japanese Nintendo system, for that matter.) Normally the music would have to be reprogrammed to use one of the standard square or triangle wave channels, so how much effort would these hackers put into this reproduction? As it turns out, there wasn't any effort at all. The extra sound channels are simply missing with nothing to take their place. It might not sound too bad if you're not familiar with the original music, but it was pretty heartbreaking.
It's neat to have around, I guess, though $50 is a bit much, even though that's about the going price for any old full packaging reproduction nowadays. It'll be good to have around for whenever the belt in my Twin Famicom goes, even though it's an inferior version.