(Shameless rip from the XSeed Blog, a group of crazy fans and developers that I have much respect for.)


Sometimes developers aren't just gamers: they're fans too. A forum poster of this very site, a self-professed Falcom Fanatic, is pretty much living the dream by helping XSeed localize the games he knows and loves, as well as many other niche gems that might otherwise never have a prayer of seeing release in the US.

Like most gaming fans, developers have likes too, and sometimes they even join in on discussions of their favorite titles, even if it's also partially business.

Sometimes, this practice shows that publishers really do have love for their fans, especially when a release is very much a labor of love, such as Corpse Party's pending US release. If it weren't for an XSeed employee's love of the game, which lead him to show the game around the office, it probably would never be coming out here.

Unfortunately, sometimes, staff being overly accessible to fans can also have disastrous results.
A simple comment from one employee to a fan can rapidly lead from one thing to another, and before anyone knows it, rumors and misinformation run wild.

The situation in question: a member of XSeed's staff, also a member of the NeoGAF message board, commented about the immense effort that translating the second chapter of Trails in the Sky will require, which is reportedly an ongoing effort. This lead to rampant speculation of the game's release being unlikely or even impossible, and still others thinking that XSeed staff were 'blaming the fans' for not supporting the original enough and encouraging them to get others to support the first chapter's release.

(While XSeed is a relatively small company, especially compared to big-time publishers like Activision and Sega, this just makes them all the more reliant on the support of their fans. Maybe a show of support for the little guys trying to help more obscure gems get noticed by gamers isn't too much to ask.)

Of course, even bigger teams like Sega have their communication avenues. Nearly everyone from indie developers to the likes of Tim Schafer frequently use twitter to collaborate and occasionally bicker with fans, which leads to no small amount of rumor-mongering and drama.
(Such as the recent incident with an IGN reviewer being called out on rushing through a game by its developer via a twitter argument, which then lead to the review in question getting modified.)

Sega, for instance, used this avenue to reveal to the beleaguered Valkyria Chronicles community that the third game, a PSP exclusive, almost certainly won't be getting localized; an even bigger shame since it's supposed to be a return to series form which the sequel drastically deviated from.


When it all comes down to it, even though there's guaranteed to be complaint and even organized movements among fans who want their voices heard, sometimes it's better to know then to be left wondering.


Personally, I'd rather know VC3 is a doomed effort, as opposed to being left in the dark for years on end, such as Atlus USA has done with its parent company's long-running Growlanser series.

Career Soft, a second party of Atlus, has been keeping Growlanser going for years, and we've only been lucky enough to receive the second, third, and fifth games in the series. The first and fourth, wildly acknowledged as the best games in the series, still remain exclusive to Japan, despite recent PSP ports which added significant new content. It's safe to say SCEA wouldn't object, with the likes of 5pb's Corpse Party and Idea Factory's Hakuoki seeing US release later this year.

Never let it be said that Aksys Games don't have cojones. Since being formed by ex-Atlus USA staff, Aksys have joined XSeed in taking up the mantle of the niche publisher. While responsible for publishing hits such as Arc System Works' BlazBlue, they're also known for taking risks on games that might otherwise have never seen release here; such as ChunSoft's 999, which has since become both a significant critical and cult success.

Atlus USA, in the meantime, seem to have left their niche roots in the dust. I've persistently been keeping interest in the first and fourth Growlanser games alive at Atlus USA's own message boards, and although fans have been supportive in trying to persuade the US branch to give Growlanser another chance, our efforts have so far proven fruitless.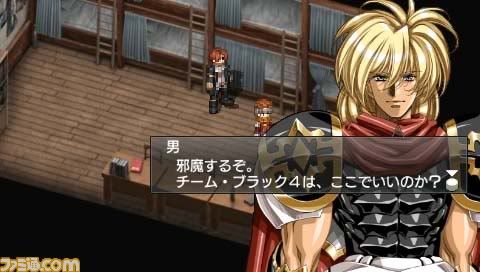 While you have XSeed trying to keep the fan interest in their projects alive, and Sega outright shooting them down, Atlus USA maintain a stagnant neutral ground: they refuse to comment on the state of Growlanser in the US, and this is not likely to change anytime soon.

Some might say this is because of their parent company's recent acquisition by Index Holdings, but Atlus USA's shift away from the gaming niche isn't exactly recent. The massive success of Demon's Souls seems to have spelled the end for the likes of further niche releases from the publishers who used to specialize in it. New entries in the Luminous Arc, Super Robot Taisen, and even the STING family of games remain Japan exclusive, despite ongoing hopes from fans, which may ultimately prove fruitless. Aside from the ever-stellar works of the core Atlus JP developers such as Catherine and the future of the Persona series, it seems the Atlus Faithful won't have much to look forward to, aside from the likes of The Cursed Crusade.

When you consider how many developers turn a blind eye to the pleas of fans, sometimes, I think it's nice to hear from a company that still cares what the gaming community thinks of them.

Shine on, you crazy diamonds.